Return to Baseball UPDATE - May 5th, 2021
---
---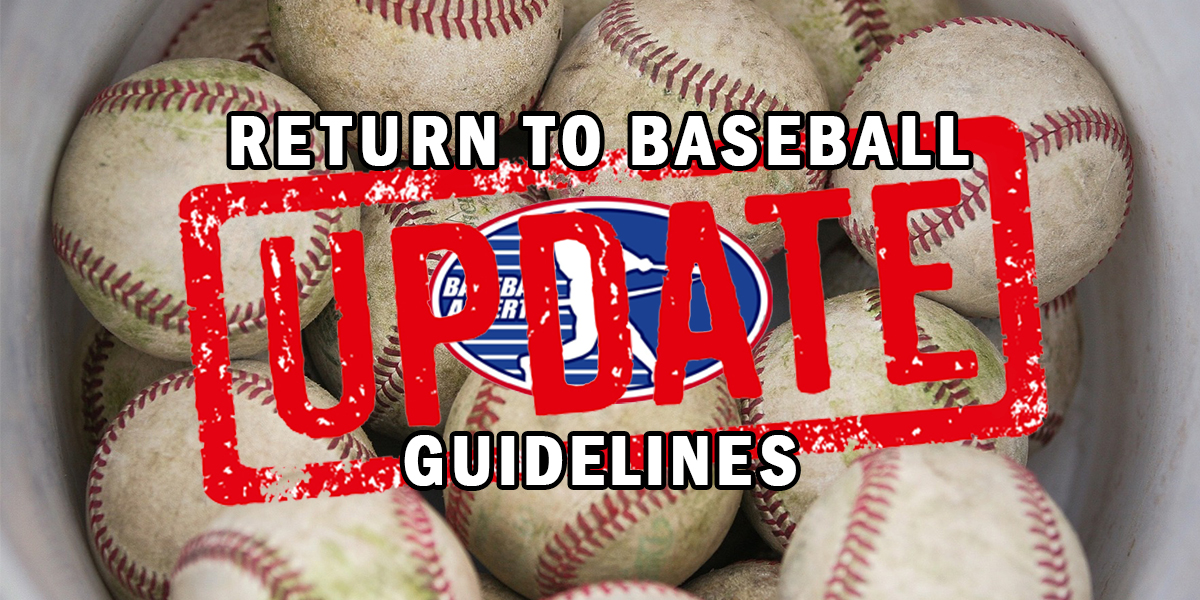 ---
To view the official Return to Baseball Document click HERE - Documents are updated to reflect the latest guidance as of May 5th.
*Document will continue to be updated as more information becomes available.

With the recent announcement from the Government of Alberta, Baseball Alberta will be postponing the start of the 2021 season for all levels of baseball to the June 5th/6th weekend at the earliest. Although we are moving our start date, Baseball Alberta has no plans to cancel the season and will be extending the season into July for our House League teams and August for our Provincial A, AA, and AAA teams. We will look to provide further updates on the status of the 2021 season as quickly as we can and communicate with our A, AA, and AAA groups regarding next steps. Whether you are in a High Case Region or Low Case Region, please follow our current Return to Baseball Guidelines for further clarification on participating in baseball activities.
May 5th, 2021 UPDATE
EXPANDED RESTRICTIONS FOR HIGH CASE REGIONS
Starting May 9, additional restrictions come into effect for youth/adult sport in regions with at least 50 cases per 100,000 people, and at least 30 active cases.
These restrictions will be in place for at least 3 weeks and will be extended if necessary. Provincewide restrictions remain in effect for all other communities.
Find your region here

Restrictions for Youth + Adult Sport

Mandatory, additional restrictions for high case regions - Effective at 11:59 pm on May 9
Indoor activities
All indoor sport, performance and recreation activities for youth and adults are prohibited.
Indoor fitness and recreation facilities must close, including for 1-on-1 training.
Outdoor activities
All outdoor sports and recreation activities are prohibited, except with members of your household, or your two close contacts if you live alone. This includes:

all group physical activities, such as team sports, fitness classes, training sessions
all one-on-one lessons and training activities
all practices, training and games

Outdoor recreation facilities can remain open unless specifically closed by public health order.
Professional sport organizations
Professional sport organizations that have received an exemption can continue, provided protocols are strictly followed.
FOR LOW CASE REGIONS
Eligible participants include:
Youth 18 years old and under
Adults 19 years old and older.
Members of a collegiate or university athletic program, if over 18 years old
Coaches or trainers
Note: 19 Year old overage players are permitted to participate in youth team sport activities at this time. Adult only groups (19 years old or older) are also permitted to train with restrictions.

Limited group physical activities allowed
No indoor sports games, competitions, team practice or league play of any kind is allowed.
Outdoor training for team sports is permitted for individuals and groups of 10 or fewer, provided 2 metre distancing is maintained.
Games are not allowed.
Fitness, recreation, and sports competitions, tournaments, showcases, or similar, are not permitted at this time for Albertans of any age, whether indoors or outdoors.
Safety requirements
Maximum of 10 total individuals, including all coaches, trainers, and participants per group.

Outdoor playing surfaces (for example, arena, field, court or swimming pool) may be occupied by more than one youth group, as long as 3-metres of physical distancing can be maintained between groups of 10 and the groups do not intermingle. Coaches must remain with their group for the entire session.

For any group of youths doing sport, fitness, or recreation, up to 2 additional adults may attend to provide safety and security to that group.

These chaperoning adults must stay 3 metres away from the participants and not participate in the activity.

Physical distancing must be maintained between participants at all times:

2 metres physical distance for outdoor activities
Coaches or trainers may enter physical distancing space for brief interactions with participants (for example, to correct form or technique)

Participants must be masked at all times, except during high intensity physical activity. Coaches and trainers must remain masked at all times. This applies to outdoor training sessions.
Access to change rooms must be limited, including accelerated arrival and departure, emergencies (for example, first aid) and washroom use.
Spectators
Up to 10 spectators can attend a permitted outdoor sport, fitness, or recreation activity so long as individuals stay 2 metres apart from anyone who is not part of their household.
Equipment
Organizers should ask participants to bring their own equipment/materials, where feasible.
If the organizer is providing equipment or materials, they should minimize the shared use of equipment/materials, and, if possible, assign specific equipment/materials to each attendee.
For sports/activities that require shared equipment to be handled (e.g., shared baseballs), participants need to perform hand hygiene before and after the activity.
What to do if you have a positive COVID-19 case or are a close contact of a positive case?
CONTACT 811 IF YOU HAVE A POSITIVE COVID-19 CASE OR ARE A CLOSE CONTACT FOR FURTHER DIRECTION AND NEXT STEPS FOR YOUR TEAM.
*Please note: Starting February 8th, Baseball Alberta insurance will be valid for all baseball training activities that follow the current public health measures. Associations looking to start 1-on-1 training or group training sessions that follow the public health measures must ensure all players / coaches are registered with their Association. The required waiver forms for players are included in the RAMP registration set up. For Associations not using RAMP as their main registration platform, please download the appropriate waivers from the Baseball Alberta website.
ALL participants (coaches & players) must sign:
Return to Baseball Questionnaire and Attestation
Waiver / Acknowledgement of Risk (17 & Under) to be signed by parent or legal guardian
Waiver / Acknowledgement of Risk (18 & Older) to be signed by player or coach
Individual Contract Tracing Log - to be completed within 4 hours of start of session.
Association Contract Tracing Log - to be completed by responsible adult for each session.
Associations must collect and store all forms as well as track all individual and group sessions using the Contract Tracing Logs.
The Return to Play guidelines will be available to associations and posted on our website once the current health measures are lifted and we are able to return to baseball game play.
For more info from YourAlberta, click HERE