Member Coaching Opportunities
---
Alberta Girls Baseball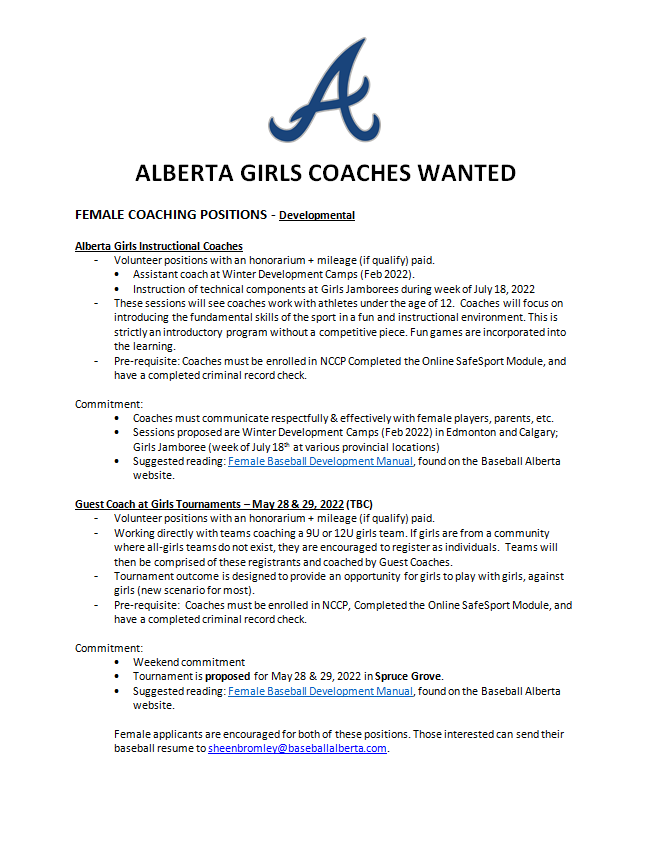 Black Gold Baseball (Leduc Minor Ball/ Beaumont Minor Ball)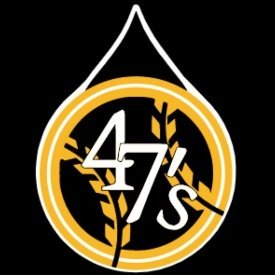 Black Gold 47's baseball is looking for AA coaches for the upcoming season.
Please click on the link to fill out the AA Coach Application form: https://docs.google.com/forms/d/e/1FAIpQLSdkLvTdPKL8DflEj0WZPQ-OgGN0YvlWYQbySsxLUV8mlrOdpQ/viewform?fbclid=IwAR0NoE8s39EXJwiiWvEPWt-AE33OVTKcjWODrDPwwGn1OO_kaWJYkFR4A_k…
Deadline for Submission is Feb. 28, 2022
Fort McMurray Minor Baseball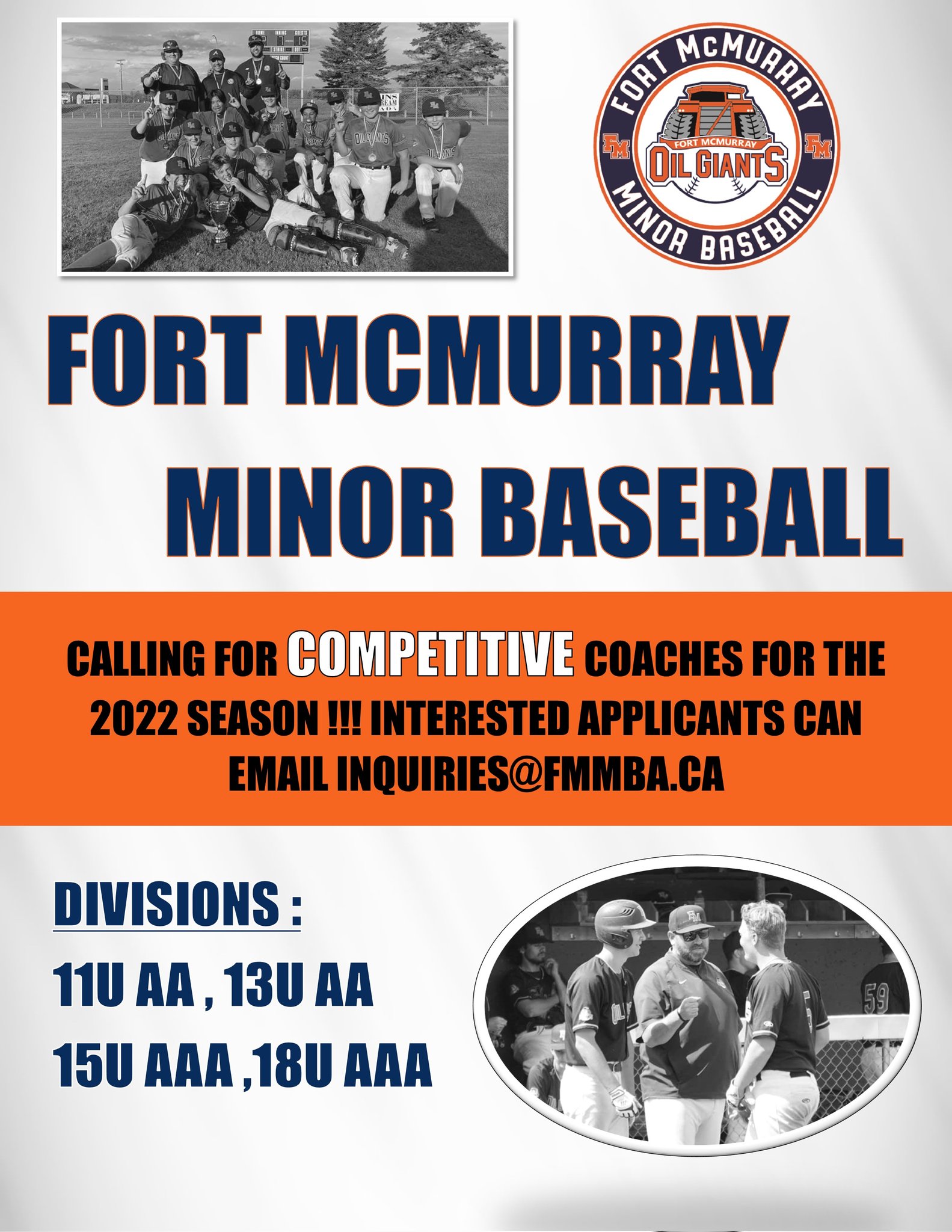 Lloydminster Twins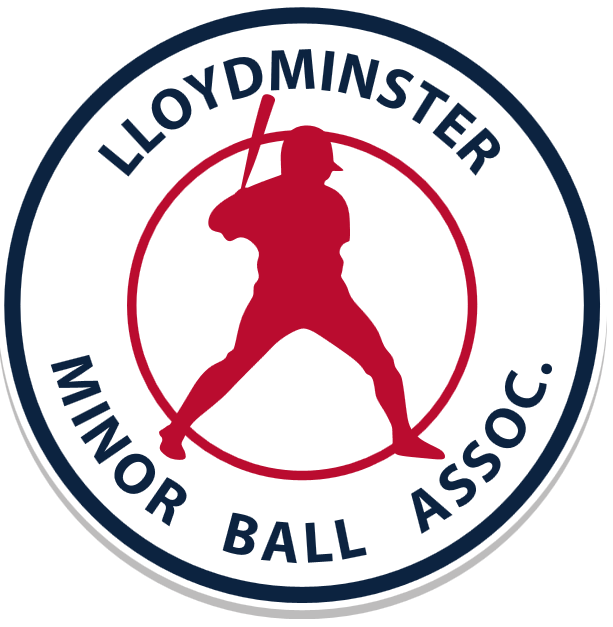 LMBA is now accepting applications for Head Coaches for our 2022 AA Twins teams. These teams will compete in the Baseball Alberta AA League and Provincials.
To apply, please use the following link: http://lloydminsterminorball.ca/form/4063
Neutral Hills Wranglers

Sherwood Park Minor Baseball Association

Sherwood Park Minor Baseball Association is looking for a skilled head coaches and assistant coaches to work with our 11U Gold and Green teams, 13U AA Green and 13U AAA team for the 2022 season. The successful candidate will have a passion and respect for the game, great communication skills and a focus on player development.
To apply, please CLICK HERE
Any questions can be sent to VP Rep Kelly Landaker at vprep@spmba.ca
South Jasper Place Minor Baseball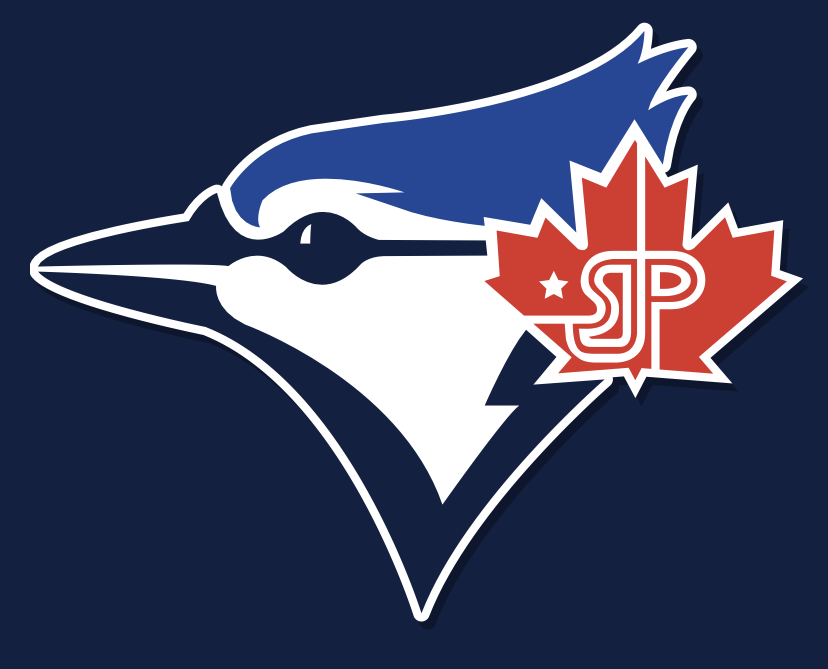 South Jasper Place Baseball is looking for a qualified Head Coach to lead
our 18u AA program.
SJP is currently looking to hire a qualified Head coach to lead our 18u AA team. If you are
someone who has a passion for teaching, providing a positive team environment where
athletes can grow, have a strong knowledge and passion for the game of baseball and are able
to commit the time necessary, please apply.

Requirements and Qualifications of the 18u AA head Coach:
* Certified Respect in Sport Making Ethical Decisions Online Evaluation
* Police Check (must be completed before interaction with athletes)
* Baseball Alberta and Baseball Canada NCCP Head Coaching Qualifications for 18u AA level
* Able to attend 2 to 3 practices per week plus weekend scheduled games by Baseball
Alberta
* Positive and able to build and maintain a positive environment.
* Strong Communication skills (Communicates well with parents and players)
* Strong organizational skills
* Good sportsmanship; respects umpires and opposing teams
* Represents themselves and SJP well
* Prepares and Runs effective and fast paced practices (Players need to be moving.
Baseball games can be slow, practices need to be fluent and very little standing around.)
* Openness to develop as a coach, openness to constructive feedback and continual
improvement (Coaches will have learning curves just like players. It's very hard to
make everyone happy. The goal is to get better every year. This okay. Someone Being
stuck in their own ways without the willingness to improve is a problem)
* knowledge of the game of baseball is a huge asset!
A monthly Honorarium will be paid to the successful candidate and will based on experience
and qualifications.
Please email resume with qualifications, and cover letter to
Colin Stephens and Shaun Boylan at
sjpjays.coaching@gmail.com